Testimonials
What Clients and Students Say…
"A 600% ROI to date"
Feedback from key colleagues, including Executive level, have firmly reinforced my earlier beliefs that the decision to appoint Steve was certainly the right one. I do hope that we have an opportunity to engage his expertise again in the future. His insight, creative mind and instinctive ability to connect through the power of words is uncanny.
Importantly, his work has had a profound positive impact on our business and demonstrated that his methodology works. Case in point, a 600% ROI to date, not inclusive of future opportunities in the pipeline, that derives from key Marketing Initiatives and project implementations.
"He's caused us quite a problem"
Because we wanted to grow the business I initially went searching for someone to spruce up our website. Just one conversation with Steve made me realise what we needed went way beyond a webpage. Steve has worked closely with us to help uncover our value proposition and present it to the market in a way that compels them to respond. It's been a real eye opener for everyone associated with our company.
"We've gone from a business with just a plain website and vague message and no outbound marketing collateral to now having a full suite of carefully crafted conversion weapons we can deploy at will.
Just one example: we presented to a software user-group conference and Steve worked with us on our presentation, messaging and sales process. The result was that we converted 100% of the room to taking the next step with us. This one interaction alone has resulted in new business opportunities we may otherwise never have uncovered.
He's caused us quite a problem because we now have a resourcing challenge in that the numbers we were chasing have arrived and we need the staff to meet demand. We would not be where we are today without him and I'm more than happy to recommend Steve to any business that needs marketing strategy and targeted sales copy, so long as your business is NOT in competition with us!
"Evidence based and structured… creative and adaptive"
I've had the pleasure of working with Steve Plummer as we developed and implemented an Aged Care sales and marketing strategy. Steve brought marketing expertise and methodology which was evidence based and structured, while always being creative and adaptive. We worked with Steve to develop a clear sales strategy and process which has already proven to be effective in setting up the business for future growth.
"I now need to engage extra people to deal with the demand"
When you're by yourself in your own business you are often so busy it's hard to set realistic targets for yourself and to see the gaps in what you are doing. Steve helped me see exactly how I have been bringing my own engineering background into the work I do for clients and refine my messaging to reflect this. He's been a wise sounding board. Steve's given me new ideas to take parts of my business in a new direction and working with him has helped me to be more in tune with how new contacts see what I am doing – which has really changed things for me.
I've known him for a number of years and I could have chosen to work with other mentors, but I picked him because I felt a strong connection and I have enjoyed doing some of his training is the past. I've gone from wanting new clients to now needing to engage extra people to deal with the increased demand, and it's only been 90 days. Thanks a lot Steve! No really – it is a good problem to have.
"My secret weapon"
My secret weapon is Steve Plummer. Most of the stuff you see come out of my office has been written by Steve. He has written copy that has produced millions and millions and millions of dollars for us and our clients.
"He becomes your ally, a neutral sounding board, primary strategist"
Steve brings a highly personal technical skillset paired with an emotional intelligence, that is both seamlessly highly targeted and broad based as required, always working closely with you and your brief to produce bespoke communications, marketing strategies and materials across a wide range of media, delivery techniques and technologies.
His copywriting sits well beyond top shelf. It is elegantly and deceptively effective, delivers immediate relatable insights – inciting action/s in the reader/listener. Above all Steve's approach connects you quickly with the right people, who can make the key decisions you need for the results-based outcomes you are seeking. Steve also worked with us in herding our internal stakeholders into the required action/results, in parallel to and comprehensively supporting the external customer-based campaigns we crafted together. He becomes your ally, a neutral sounding board, primary strategist, crap filter and ideas amplifier.
Your staff and teams become empowered, motivated and energised with new tools, approaches and psychologies to take on new markets, optimise existing customer bases, launch new products and services, solve the insoluble and resolve that intractable blockage that you have been losing sleep over for way too long. With Steve on-board you will create, plan and move mountains in ways and by means previously unimagined.
Videos
Video Testimonials
"No one better than Steve"
"Made it much faster and much clearer"
"Wrote it 2 years ago, still working today"
"Has made million us for us and our clients"
"Will yield me $800,000.00"
Testimonials
More Testimonials from Clients and Students
"His copy sells"
I find his style absolutely unique. He delivers the projects on time, very creative and most importantly, his copy sells. If you're thinking about employing a copywriter that knows what he does that produces results do not hesitate. Call Steve and Talk to him.
"Immediately usable in my business"
It was a fantastic… jam-packed with hard-hitting content that is immediately usable in my business. Just a quick example. I sent my first ever email offer to my back end two days ago. I had just over a 50% open rate and 10% of those booked quotes for my most profitable service. Thanks again Steve you're an absolute master.
"You'll really know how to "speak" to your clients"
Steve is a great teacher… he is caring, genuine and passionate about helping people learn copywriting.
I'm grateful for learning the secrets to copywriting from Steve. I now have more confidence with my writing, I can critique other writing and I have started writing for other people.
Before doing Steve's course I wasn't a copywriter. I wouldn't have been able to take on a paid repeat copywriting client. Now I have!! I couldn't have done it without Steve! Thank you.
Steve teaches from the heart. He is generous and really cares about everyone's results. His teaching method is excellent, although challenging… I was warned it would be! I would recommend this course to anyone who wants to understand copywriting, and more importantly to really know how to "speak" to your clients. Thank you Steve! That was awesome!
"Steve has rejuvenated my considerable copywriting skills…"
If you want to learn the secrets of high paying copywriting – or are a copywriter who wants to earn heaps more money – by making your clients more money, with RESULTS driven copy…then sign up with Steve Plummer right away. Steve is a master of the new copywriting-currency. Steve cuts to the chase…he shows you step-by-step the secrets, the short-cuts, the formulas, that turn even good copy into another level of sales-smashing success stories. I am a senior copywriter who has a stack of client successes and awards myself, but Steve rejuvenated my considerable copywriting skills so they are even better than ever – and I thank him for it.
"Steve takes you to a whole new level"
I've been very very privileged to be part of 7 Figure Writers… it's vastly improved the quality of my copy and its persuasiveness. Steve is a fantastic facilitator… you'll constantly grow… sometimes it's the small things you wouldn't be able to learn by yourself. Steve catapults the quality of your copy to a whole new level.
"The copywriter I admire and learnt the most from"
Steve Plummer is the copy writer I admire and have learnt the most from. There's a thousand reasons I appreciate his mentoring and his exceptional marketing and copy skills, but here's my top 7:
1. He manages a perfect balance between creativity and classic, effective copywriting styles
2. He'll teach you how to write for today's savvy online and offline markets that've moved well past the dated super hyped copy that simply doesn't work anymore
3. Steve's approach gets results, if you want to see conversion rate improvement he's your man
4. Being an ex-professional teacher and deputy principal he knows how to share knowledge expertly unlike so many others
5. He has a great presenting style combining humour and clarity, even advanced concepts are readily understood
6. He has a comprehensive knowledge of all aspects of copywriting and marketing
7. If you want to build your business or develop a career as a professional copywriter he is second to none as a teacher and mentor.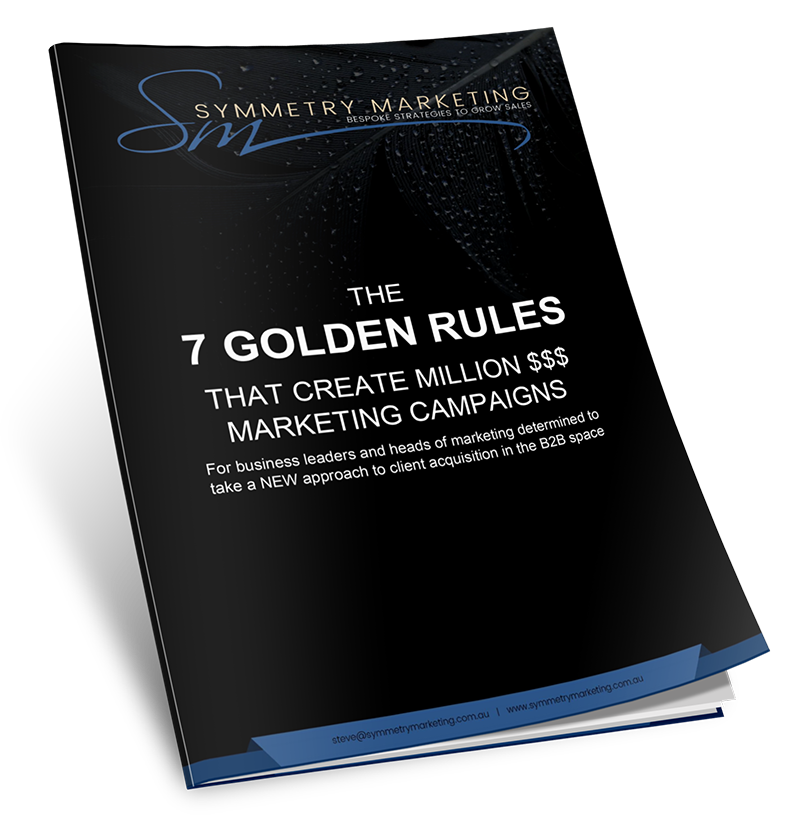 How effective was your company's last marketing campaign?
Test it against our
7 Golden Rules of Marketing